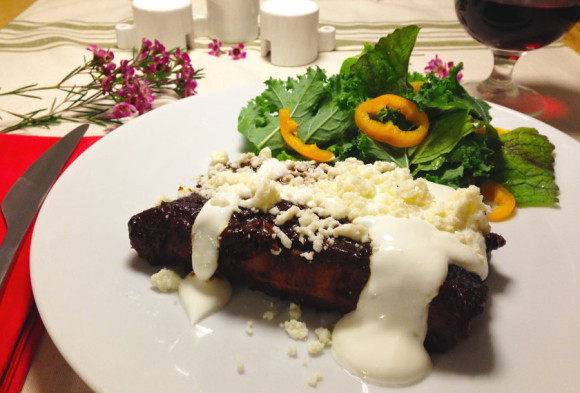 Deep dark and spicy… That's how I describe this mole dish.  Relatively easy to make, but some labor involved.
This meal is great for a special occasion or making a regular weekday special . I originally planned on making these enchiladas, along with a Mexican Chocolate Bread Pudding, for our Valentine's dinner- but we kept pushing it out.
Finally, I just made the dinner on Sunday, a couple of days later. And it was beautiful! A cozy dinner to wind down the weekend.
Note.. there was enough for leftovers! Yay!
I served the enchiladas with a simple salad, the greens came from our local farmer's market.
Recipe:
Chicken Ingredients (serving 4):
2 chicken breasts
Kosher salt and black cracked pepper
Olive oil
5 Ancho Chilies
1 handful of tortilla chips
2 tbsp. of olive oil
1 1/2 medium yellow onions
Kosher salt
2 cloves of garlic, minced
2 tbsp. of smooth peanut butter
2 tsp of dried oregano
1 (3.1 ounce) disk of Mexican chocolate, chopped
1 3/4 cups of chicken stock
black pepper
Enchilada Assembly:
Olive oil as needed
12 corn tortillas
1/4 cup Sour cream
3/4 cup queso fresco
Chicken Preparation:
Preheat oven to 400º
Drizzle olive oil over chicken breasts, then add salt and pepper.
Bake chicken for 20 minutes or until cooked through. Then set aside to cool.
Once cool, shred the chicken so it'll be ready when the enchilada assembly begins.
Chocolate Mole Preparation:
First, begin by reconstituting the chilies. Stem and seed the chilies, then add to a warm pot of water and simmer for 10 minutes. Then drain and set aside.
Heat the oil over medium heat. Add the yellow onions and season with the salt until translucent. Then add the garlic, cooking only for a couple of minutes.
Pour the onions and garlic into a blender, then add the peanut butter, tortilla chips, chilies and oregano.
Finally, add the chicken stock to the ingredients and blend until smooth.
Once blended, transfer mole to a medium saute pan and bring to a boil over a high heat. Reduce heat to medium low and simmer for 20 minutes. Stir in the Mexican chocolate, the add salt and pepper to taste. Reserve 1 cup of mole for garnishing the enchiladas, you will use the rest  for dipping the tortillas.
Enchilada Assembly:
Fill a medium saute pan half way with oil over high heat. Once the oil is hot, reduce the heat to medium, use tongs to dip 1 tortilla in until a little soft, (just a few seconds).
Lift out of the oil and let the excess drip off, then dip the tortilla into the warm mole (which should be right next to the pan for easy dipping). Transfer to a plate…
Caution! This part of the process gets hot and messy!
Quickly put 1/3 cup of the shredded chicken in the center, try not to overfill. Roll the tortilla to enclose the filling and place in a serving dish, seam- side down.
Working with another person, one to dip and one to roll, works well!
Continue filling all of the tortillas and place them side-by-side.
Pour the reserved mole over the top.
To serve, drizzle with a little sour cream and sprinkle with queso. Serve with your sides of choice.  Enjoy!!