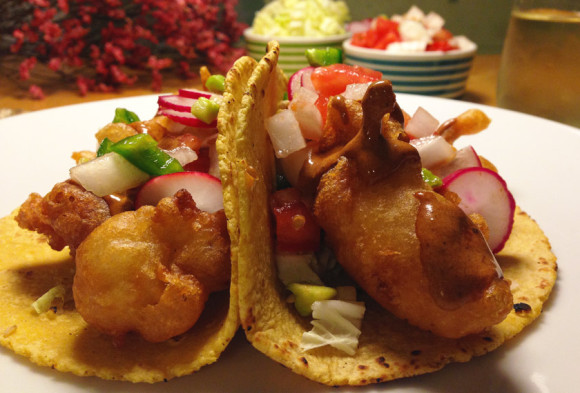 Oh how exciting ! Beer battered fish tacos and mojitos! So excellent on a sunny day… the doors are wide open and I can smell the gulf breeze. We went down to the local seafood shop and found some snapper, perfect for this recipe.
This dish calls for an Ancho chilie or a Chipotle homemade mayo that you can find below. Then it is  accented by a little
squeeze of lime. We use Napa cabbage, which has a delightful texture, to incorporate with pico de gallo and a few slices of a crisp radish.
And last, but not least, the beer battered fish, fried to a golden crisp!
While you're cooking, enjoy the sweet mint sensation of a freshly made
Mojito
…
Salud!
Beer Battered Fish Tacos Recipe:
Ingredients (serves 4):
1 cup mayonnaise
2 Ancho chilies, reconstituted or 1 pepper from a can of chipotle pepper
1 1/2 cups all purpose flour
10 cups corn oil
1 lb of snapper – cut into strips, you can also use catfish
8 regular sized tortillas
3/4 cup pico de gallo (optional)
2 Napa cabbage leaves, washed and shredded
2 radishes, thinly sliced for garnish
2 limes
Preparation:
Pour mayonnaise into a blender and place the chilies/pepper in there as well. Blend until smooth.
Transfer to a bowl when done (refrigerate while you cook).
Pour the corn oil into a Dutch oven and heat to 350 degrees.
Place flour into a large bowl and whisk in the beer, make sure there are no lumps.
Place two strips of fish at a time in the oil and fry until golden brown (approx. 3 min). Drain fish of excess oil on a paper towel.
Place fish into the warmed tortillas and top with pepper mayo, cabbage, pico de gallo and radish.
Squeeze lime over the tacos.
Serve with a cold beer, a coastal California Chardonnay, or with a smooth mojito…
Enjoy!