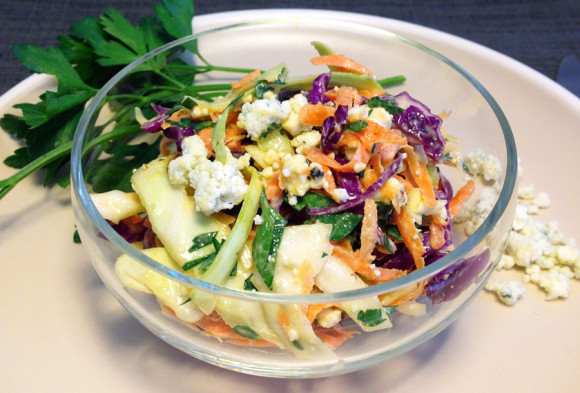 One of my good friends got married this weekend and she had a pot luck wedding dinner, accompanied by some grilled fish, served with beer and wine. I wanted to keep it fresh, easy and simple and my dish needed to pair well with the BBQ seafood. I came across this blue cheese coleslaw recipe that hit the mark for me!
Blue Cheese Coleslaw Recipe:
Ingredients:
1/2 head of green cabbage
1/2 head of red cabbage
3 large carrots
16 oz of mayonnaise
1/4 cup of Dijon mustard
2 tbsp of a seeded mustard
2 tbsp of apple cider vinegar
1/2 tsp of kosher salt
1/2 tsp of freshly ground black pepper
5 oz of crumbled blue cheese
1 cup of chopped parsley
Preparation:
Slice the green cabbage into thin strips or use a food processor with the slicing blade, then place in a bowl.
Slice the red cabbage and then place atop the green cabbage in the bowl.
Grate carrots with grater or food processor and place on top of the cabbages in the bowl.
In a separate medium sized bowl, whisk together the mayonnaise, mustards, vinegar, salt & pepper.
Once mixed thoroughly, pour over the cabbage and carrots and toss (You can use half of the dressing if you
Add the blue cheese and parsley and toss again.
Cover the bowl with plastic wrap and refrigerate for 4-6 hours to allow the flavors to truly come together! Judging from the comments at the wedding dinner and how fast the dish disappeared, the Blue Cheese Coleslaw was a great success.
Brian and Cate, we truly enjoyed your beautiful wedding ceremony and celebration. We wish you a long lasting relationship filled with love and happiness!