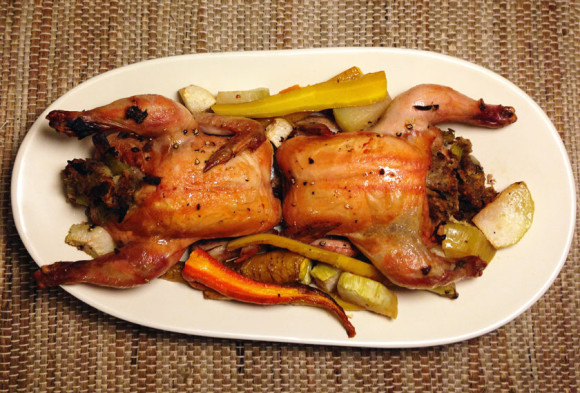 We've seen some uncharacteristically cool days recently and were able to find some local carrots and kohlrabi. Time to make some Cornish Hen before it will get too hot for roasted poultry! We served this tasty bird with herb stuffing, root vegetables, and a wonderful, medium-bodied red blend.
Roasted Cornish Hen Recipe:
Ingredients (serves two):
Cornish Hens
Olive Oil
Salt and Pepper to Taste
Preparation:
Preheat oven to 375° F.
Rub olive oil all over the hens and season each with the salt and pepper. Place the hens on a baking pan with plenty of space between them. Loosely stuff the cavities of each hen with the herb stuffing (see below). Roast the hens in the preheated oven for about 1 hour or until an instant-read thermometer inserted into the thickest part of the thigh registers 165° F and the juices run clear. Remove the hens from the oven, loosely tent with foil and let rest 10 minutes before carving or serving.
Herb Stuffing Ingredients:
5 cups crusty Italian or French bread, cut into 1/2-inch cubes
2 Tbs unsalted butter; more for the pan
1 medium-large yellow onions, cut into medium dice
1 medium celery stalk
1.5 cups (approx.) chicken broth
2 tbs finely chopped fresh flat-leaf parsley
2 tsp finely chopped fresh sage
2 tsp. finely chopped fresh thyme
Kosher salt and freshly ground black pepper
Herb Stuffing Preparation:
Heat the oven to 400 degrees.
Bake bread cubes for 12-15 minutes.
Heat the butter in a 12-inch skillet over medium-high heat. Add the onions and celery and cook, stirring occasionally, until softened, about 6 to 8 minutes. Let cool.
In a large bowl, mix the bread cubes with the cooked vegetables, the broth, the parsley, sage, thyme,salt, and pepper. If the liquid isn't immediately absorbed by the bread, toss occasionally for a few minutes until it is. If needed add another 1/4 cup broth. The bread should be moist but not soggy.
Root Vegetables Ingredients:
1 Kohlrabi, diced
7 carrots, diced or whole
Can be substituted with other root vegetables
Olive Oil
Salt and Pepper to Taste
Preparation:
Cut and dice the root vegetables. Sprinkle with olive, salt and pepper to taste. Add to the pan with the cornish hens and roast at the same time.
We served this dish with a medium-bodied red blend that I discovered at one of our favorite Houston restaurants. I highly recommend the 2012 Ernesto Catena Tikal Patriota- a  Malbec and Bonarda blend from Argentina. Try it out! You won't regret it…