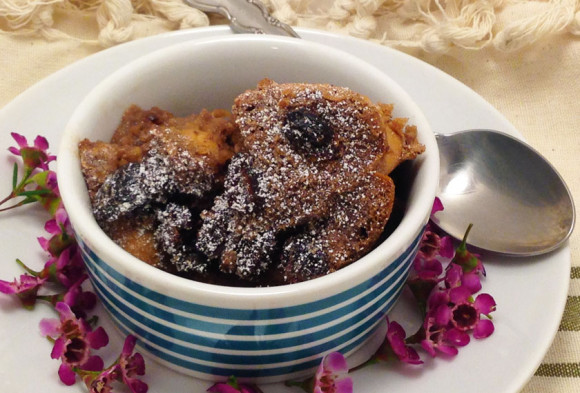 This Mexican Chocolate Bread Pudding is the best bread pudding I've ever had in my life! You'll love it
and it's easy to make! It just takes a little time.
Recipe:
Ingredients:
5 cups of bread cubes.
 ( day old bread works well)
2 3/4 cups of whole milk
2 (3.1 ounce) disks of Mexican chocolate chopped
1 cup of granulated sugar
2 eggs
3 egg yolks
1/3 cup raisins
1 tbsp. of cinnamon
Powdered sugar for dusting
Preparation:
Butter an 8×8 2 inch baking pan and set aside.
Place the bread cubes in the baking dish.
In a heavy sauce pan bring the milk to a simmer.
Remove from the heat and then Add the Mexican chocolate and whisk until smooth.
Beat the sugar, eggs, and egg yolks in a medium bowl until blended with an electric hand mixer.
Gradually whisk the chocolate mixture into the egg mixture. Add the raisins and cinnamon.
Pour the custard over the bread. Let the mixture stand for 1 hour .
Not all of the custard mixture will be absorbed.
Preheat the oven to 350º
Bake for about 45 minutes.
Dust with powdered sugar and serve.