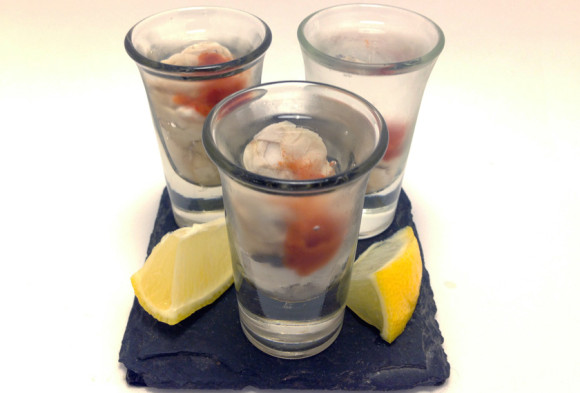 Oyster shooters make a great appetizer. Hey, they combine oysters and liquor- what else can one ask for? We like to serve them when we have a small dinner party since they taste especially good when freshly shucked. But you can cheat and purchase a pint of oysters as well; the flavor just won't be as intense.
Oyster Shooters are simple, yet versatile. We usually prefer vodka over mezcal or añejo tequila, but it all tastes great. You can add horseradish, tabasco, lemon, hot sauce, or a combination of all of these ingredients to the shot glass. Go ahead and experiment! Below is my personal favorite oyster shooter recipe. Sophia prefers tabasco or horseradish for her oyster shooters.
Recipe:
Ingredients (serves 4):
4 fresh oysters, medium sized
4 dashes of Tapatío sauce
4 lemon wedges
4-6 oz vodka, ice cold
Preparation:
Shuck 4 oysters and place each into a shot glass. Do not rinse the oysters after shucking or you'll lose flavor. Add ice cold vodka from the freezer and fill close to the rim- about 1 to 1.5 oz, depending on size of oyster and shot glass.
Add a dash of Tapatío sauce to the glass- just enough to add some spice and color. Squeeze lemon into the shot glass to add some acidity. Serve immediately and consume quickly.
This is a great appetizer and aperitif for a nice meal. The oyster will prepare you and your guests for the main course and the  booze will relax the cooks and guests. Enjoy!
Note: We are close to the end of oyster season in Texas. These oysters were purchased and the shots were prepared earlier this spring. Be sure and ask your local fish monger if they would currently advise their consumption raw.