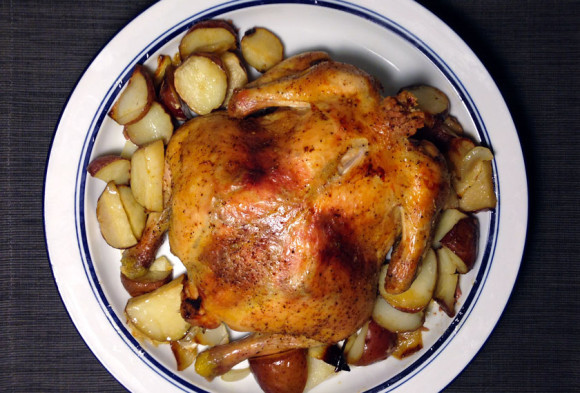 The weather report announced yet another cold snap to arrive at the beginning of next week.  That will probably be the last cold front to hit the Texas coast until late fall.  So here's a little cold-weather-classic…
There's nothing like aroma of a roasting chicken to make you feel
snug in your home on a cold wintery evening.
Tonight we are going to have chicken with red potatoes and onions
It's easy to make and you can sip on a glass of wine while
you wait for the chicken. About 20 minutes before the chicken is
done, you'll want to make the spinach salad and serve immediately while the dressing is warm.
Enjoy!
Recipe

:

Ingredients:

1 whole baked chicken

2 tbsp. olive oil

salt

pepper

1 yellow onion

4 medium red potatoes

1 large yellow onion

3 tbsp. olive oil

Salt

Pepper

Preparation (Chicken):

Preheat oven to 425.

Remove the giblets from the cavity of the chicken.

Rinse the chicken, pat it dry with paper towels and place it in a baking dish.

Drizzle the chicken with the olive oil and rub all over the skin.

Season the chicken with the desired amount of salt and pepper, making

sure to also add salt and pepper to the cavity of the chicken.

Slice the onion in half and insert into the cavity of the chicken.

Place the dish in the oven and roast for 15 minutes, then reduce the temperature to 375 degrees.

Continue to roast until a thermometer inserted into the inner thigh reads 165.

The cooking time is approximately 50 minutes to 1 hour or more, depending on the weight of the chicken.

Remove the chicken from the pan and place onto a platter or cutting board.

Let rest for 15 minutes. Then carve.

Preparation (Potatoes & Onion):

Quarter the red potatoes and place them in a large bowl.

Cut the onion into chunks similar to the size of the

quartered potatoes and place in the same bowl.

Drizzle the olive oil over the potatoes and onions.

Add salt and pepper, then mix all of it together, making

sure to coat the potatoes well with the mixture.

Once thoroughly coated surround the chicken with the potatoes and onion

in the baking dish.

These will cook perfectly along with the chicken and be done at the same time.