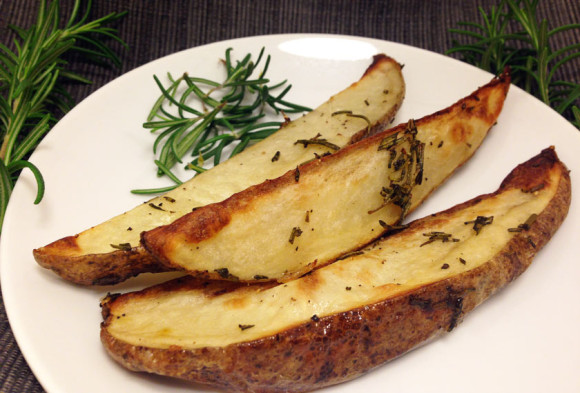 We love French fries and this is a tasty and healthy alternative. I make these roasted rosemary potatoes to go with my burgers, but they're also good as a munchie snack.
Recipe:
Ingredients:
4 large baking potatoes, unpeeled and washed
4 tbs olive oil
1 1/2 tsp kosher salt
3/4 tsp freshly ground black pepper
1 tsp minced fresh garlic
1 tsp minced fresh rosemary leaves
Preparation:
Preheat the oven to 400°.
Cut your potatoes in half lengthwise, then cut each half into thirds lengthwise. You'll have 6 long wedges from each potato.
Place the potatoes in a bowl with the olive oil, salt, pepper, garlic, and rosemary.
Toss all the ingredients together and make sure the potatoes are covered with oil.
Place the potatoes cut side down in one layer on the baking sheet.
Bake the potatoes for 20 minutes, then turn to the other side. Bake for another 10 – 15 minutes until they are lightly browned, crisp on outside, and tender inside.
Then serve! They are great either by themselves or as a side dish!  We served them recently with some
great lamb burgers
!