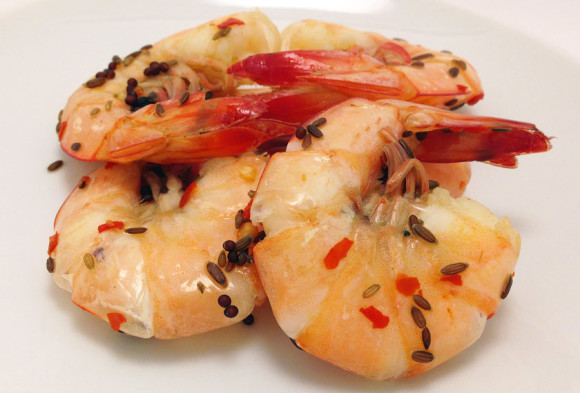 Growing up along the Gulf Coast, shrimp was a weekend treat. We would head out to the Negrini's "bait camp", as the seafood shop was called,
and pick up some shrimp. My brothers and I would examine the different fish laid out on ice, as well as the live crabs for sale, crawling in the cement tubs filled with water.
Meanwhile pop would make the shrimp transaction.
Now we treat ourselves to good ol' fashioned shrimp boil any day of the week. It's quick and easy! And we get to buy them right off the boat.
For this particular recipe we are going to use a spice seed mix from the local spice store. It's a combination of crushed red pepper, all spice, black peppercorn, coriander seed, mustard seed, bay leaf, and other spices.
You can most likely find a shrimp or crab boil in your local grocery store.
Growing up my dad used Zatarain's spice bags; it's a similar combination of spices.
If you're using loose seeds and spices, you can put them into a mesh spice ball. It will season the water while keeping the seeds off the shrimp shells. I actually prefer to pour the loose shrimp boil into the water because I don't mind the occasional pop of peppercorn and other seeds. But a lot of people prefer to contain the spices.
As far as shrimp preparation, you can either leave the shell on or peel and devein them.
Tonight it's shell on!
Once the shrimp are boiled, you can eat them right away while they are still hot. You might also put them into the refrigerator for a few hours
and serve chilled. Once they chill the seasoning will really come through.
Recipe:
Ingredients:
1lb of Gulf shrimp, preferably medium or large
1/2 cup of crab boil or 1 bag of pre packaged crab boil
Preparation:
Fill a large pot with water and add the spice mixture to it.
Bring to a boil. Once it's a rolling boil add your shrimp.
Let shrimp boil for 3-4 minutes. The shrimp will turn pink and opaque.
Turn off the heat and let the shrimp soak for another 2 – 3 minutes.
Strain the shrimp and spiced water in the sink through a colander.
Tonight's shrimp were served with a mushroom and herbed rice along with the blue cheese coleslaw previously posted. Pair with a cold light beer or a white wine, a sauvignon blanc or pinot grigio.
Alright, alright, alright!