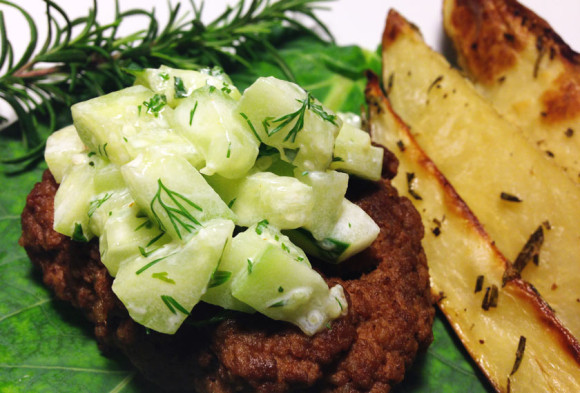 This weekend we decided to support our local farmers market's meat company and make some simple lamb burgers!
I'm also going to compliment the burger with a tzatziki topping and substitute the bun with
a brussels sprout leaf from our hydroponic farmer, also found at the market. You can also use lettuce leaves if you can't find any brussels sprout leaves. Brussels sprouts leaves are great because they are a little firmer and also add a nice, settle, slightly spicy flavor to the dish.
This can get a little messy but sure is also a lot of fun!
Recipe:
Ingredients:
For the burgers (4 servings):
1 lb. of ground lamb
1 1/2 tsp. of cumin
1 tsp. salt
1/2 tsp. black pepper
For the Tzatziki Topping:
16 oz. of greek yogurt
1 medium cucumber, peeled, seeded, and finely chopped
Pinch kosher salt
4 cloves garlic, finely minced
1 tablespoon olive oil

2 teaspoons red wine vinegar

1 tbs. of  mint leaves, finely minced
2 tbs. of fresh dill
Burger Preparation:
Mix the lamb and spices in a bowl. Knead the mixture and form four patties of equal size.
Preheat your grill to medium heat and cook the lamb patties until the burgers are cooked to your desired degree of doneness, 3 to 4 minutes per side for well done.
An instant-read thermometer inserted into the center should read 160°.
Tzatziki Topping Preparation:
Place the chopped cucumber in a few paper towels and squeeze to remove the liquid; discard liquid.
In a medium mixing bowl, combine the yogurt, cucumber, salt, garlic, olive oil, vinegar, mint and dill.  The topping is served cool on the burger patties.
For Assembly:
You will need 2 brussel sprout leaves or wide lettuce leaves.( the leaves are a bread alternative but you can of course use buns or pita bread).
Place the burger in the center of the leaves, top with the tzatziki sauce. fold the bottom and sides of the leaves to cup the burger and chomp down!
 Like I said, it can get a little messy if you're using the leaves. But for us it was lots of fun to eat and a nice change from your regular burger!