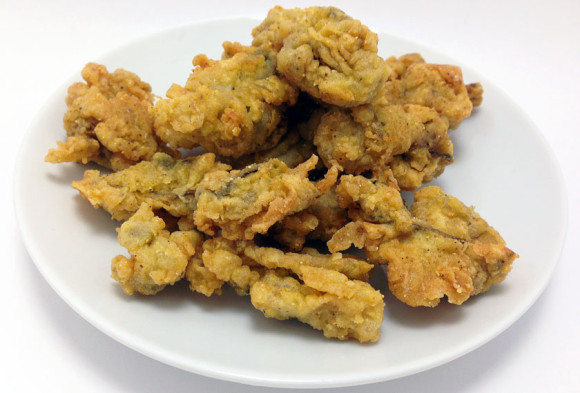 One of the biggest benefits of living on an island in the Gulf of Mexico is the availability of excellent and fresh seafood.  Oysters are one of my absolute favorites.  While I prefer oysters raw, I also like to prepare them lots of different ways.  Southern fried oysters are delicious and easy to make.  Since for many people oysters can be an acquired taste, this dish is the perfect introduction.
Note: I prefer to purchase fresh  closed oysters ($4.50/dozen locally), but that requires shucking them.  You can also purchase them shucked for $15/pint at local fishmongers.  Oyster season on the third coast is roughly from November to March.
Recipe:
Ingredients:
2 cups oysters, drained and dried thoroughly
1 cup flour (you can also choose a bag of Shrimp Fry, i.e., pre-seasoned flour)
1 tsp salt
1 tsp black pepper
2 eggs
2 tbsp. water
1 lemon (optional), sliced.
Preparation:
In a bowl, combine flour, salt, and black pepper.  In another bowl, whisk eggs with water.
Dip the oysters in egg mixture (after carefully squeezing excess water out of them).  Then dip the oysters in the flour.
Fry in hot oil at about 370 degrees until nicely browned, about 2 minutes.
Serve hot as an appetizer, with lemon slices if desired.