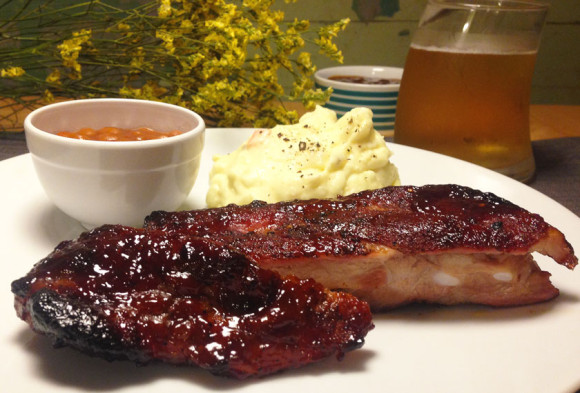 Sure! You can use store bought BBQ sauce when grilling your favorite cut of meat- and we sometimes do. But for many years I've been using this simple, homemade BBQ sauce. It's easy to make, full of flavor, and you can easily add, change, and adapt it to your needs. For today's dish we added some curry to the basic recipe, just to complement our rub.
We are smoking St.Louis Spareribs. As opposed to regular spareribs, these ribs have been trimmed of the strip of meat and the cartilage along the edge of the slab.
BBQ Sauce Recipe:
Ingredients:
2 tbsp butter
1/2 cup onion, finely chopped
1 1/2 cups ketchup
1 cup red currant jelly
1/4 cup apple cider vinegar
1 tbsp soy sauce
1/4 tsp red pepper
1/4 tsp black pepper
1/2 tsp curry powder (optional)
Preparation:
Melt the butter in a medium sized sauce pan over medium-high heat. Add the finely chopped onion, cook and stir until softened. Then stir in the remaining ingredients and turn down the heat to medium-low. Let simmer for 20 minutes, stirring often. Put aside.
Spareribs Recipe:
Ingredients (serves 2)
2 pounds St.Louis Spareribs
1 tbsp cumin
1 tbsp black pepper
1 tbsp cayenne pepper
1 tbsp coriander
1 tsp kosher salt
1 cup Homemade BBQ Sauce
Wood chips (optional)
Preparation:
Combine the spices. Please notice that I use less salt than other spices. It's easy to over salt the meat. Rub the mix generously into the meat and then refrigerate for two hours. In the meantime, soak your wood chips for at least thirty minutes, if you wish to smoke the ribs.
Preheat one side of the grill (we're using a gas grill) for 10 minutes at high. Place a drip pan under the cold side of the grill. Then place the slab of ribs onto the cold side, opposite of your smoke box.  Grill, covered for 1 to 1 1/2 hours, turning occasionally. Avoid keeping the grill open for longer than necessary.
After 1 to 1 1/2 hours, baste the ribs generously with the BBQ sauce. Grill for another 30 minutes until the ribs are tender and brown, turning and basting occasionally. Take the meat off the grill when the internal temperature (thick part of the rib, away from the bone) has reached 165º.
Rest the ribs covered with aluminum foil for 10 minutes while heating up additional BBQ sauce.  We served this dish with beans and potato salad, cold light beer.