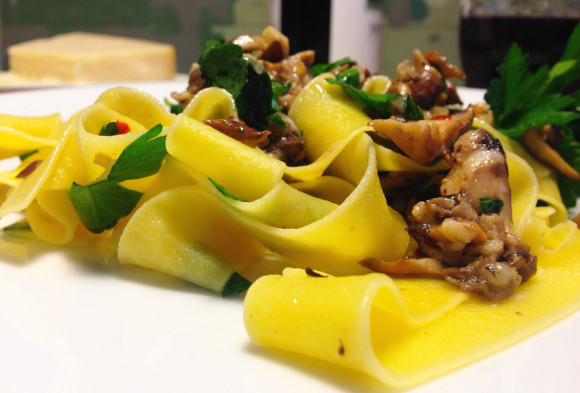 I realized we hadn't yet made a pasta dish for y'all- so I hopped to it! One of my favorites is Wild Mushroom Pappardelle. It's a rustic dish with fresh parsley and lemon for acidity. You can also add chili flakes for a bit of heat. Wild Mushrooms are delicious and you can use an assortment of your favorites, or whatever is available at your local markets. Easy to prepare and very filling, served with a little mix of greens on the side, this is a great, quick weekday dinner dish!
We enjoyed this dish with great company! Our friend Elena came over and helped out by preparing a side salad. Please check out her blog,
Have Watercolor Will Travel
- Elena is a very talented water color artist and novelist.
Wild Mushroom Pappardelle Recipe:
Ingredients (serves 4):
9 – 11 oz wild mushrooms
3 tbsp olive oil
1 clove of garlic, finely chopped
1 -2 tsp of red chili flakes (to taste)
Salt and freshly ground black pepper
Juice of 1/2 lemon
1 pound Pappardelle
A small handful of grated Parmesan cheese
1 handful of fresh flat-leaf parsley, roughly chopped
2 oz butter
Preparation:
Slice the mushrooms thinly.  Put the olive oil in a very hot frying pan and add the mushrooms. Let them fry fast, tossing once or twice, then add the garlic and chili with a pinch of salt. Continue to fry fast for 4-5 minutes, stirring often. Then turn the heat off and squeeze in the lemon juice and toss.
Meanwhile cook the pasta in boiling salted water until al dente.
Add the Parmesan cheese, butter and parsley to the mushrooms. Toss gently, coating the pasta with the mushrooms and its sauce, then serve adding a little extra parsley and Parmesan. Pair with a medium bodied Pinot Noir or a nice, more intense Chianti. Bon Appétit!